Tradition
The smell of fresh-cut grass and mown, checkerboard- and stripe-patterns in the field are a natural part of baseball. The Rangers have played on real grass in Texas for going on 47 years, since they moved from D.C. to Arlington in 1972. Tri-Tex Grass, who's headquarters is in Granbury, had the honor of installing the playing field for 2019, the final season of play at Globe Life Park in Arlington. The grass of choice was TifTuf™ Bermuda.
"One of the things we liked about TifTuf is its ability to recover quickly. That's huge for us when you play more than 100 games per year on a field. We're hoping its recuperative capabilities are better than other grasses."
-Dennis Klein, Texas Rangers Head Groundskeeper at Globe Life Park in Arlington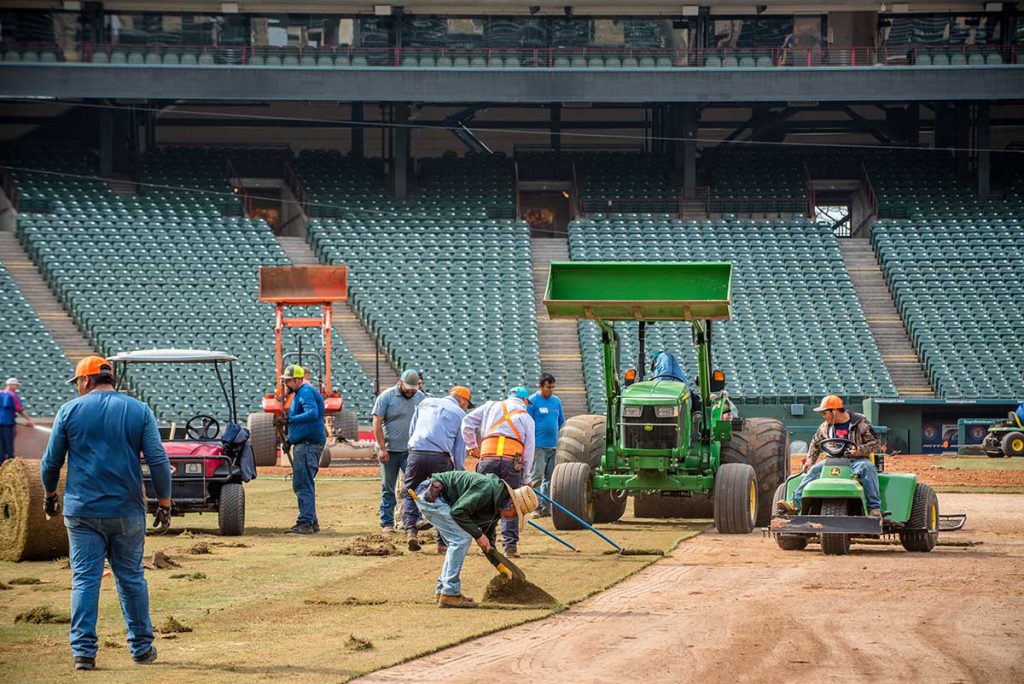 Enchanted
We are certainly hoping for a little enchantment for the 2019 season, but "Enchant, The World's Largest Christmas Light Maze & Market" is the reason for needing to re-sod the field. Imagine a giant Christmas tree on the pitchers mound and an ice skating rink in right field. The time it took to remove the installations, didn't leave much time to renovate the field and replace the sod.
"We only have about three weeks to get the over-seeded TifTuf to root in and be a stable playing surface. Once it was installed we immediately sanded it, planted more perennial ryegrass and covered the entire field in grow blankets. The grow blankets will help keep the ground temperature warmer so it will root down better."
-Dennis Klein, Texas Rangers Head Groundskeeper at Globe Life Park in Arlington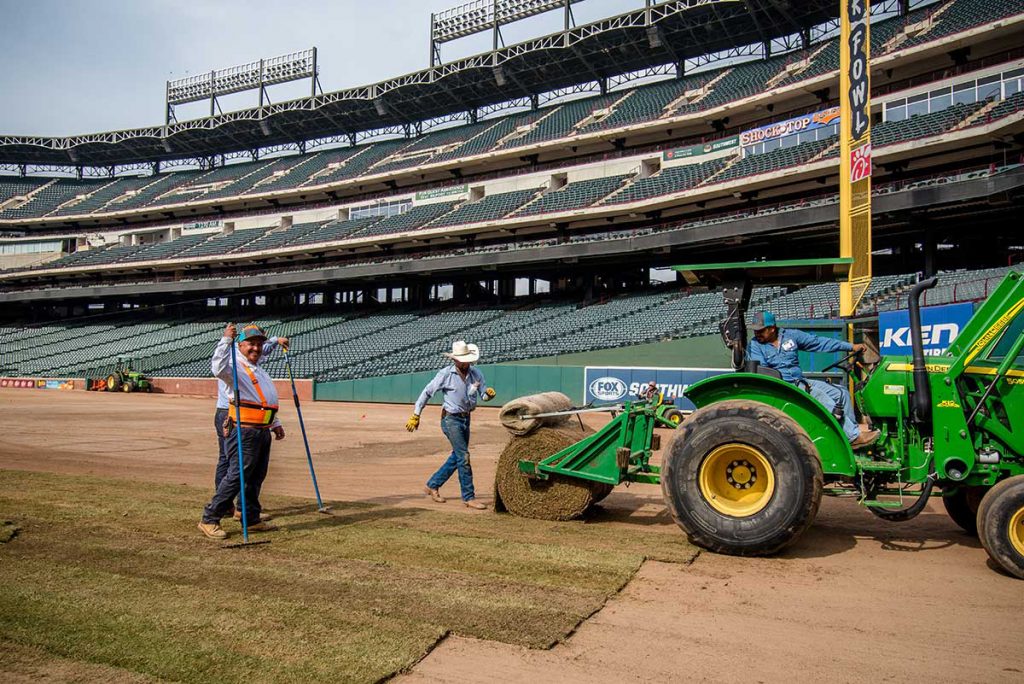 Trusted
With such little time to work with, the Head Groundskeeper, Dennis Klein, needed a company he could trust to get the Texas Rangers 2019 season off to the right start. Having known and worked on other projects with Randy Price and Mike Pender from Tri-Tex Grass for over 20 years, he turned to them. The new field was installed over two days on February 4th and 5th.
"I knew they would do whatever it took to meet our timeline. I can't tell you how many fields and projects we've done together over the years, but I trust them to get the job done."
-Dennis Klein, Texas Rangers Head Groundskeeper at Globe Life Park in Arlington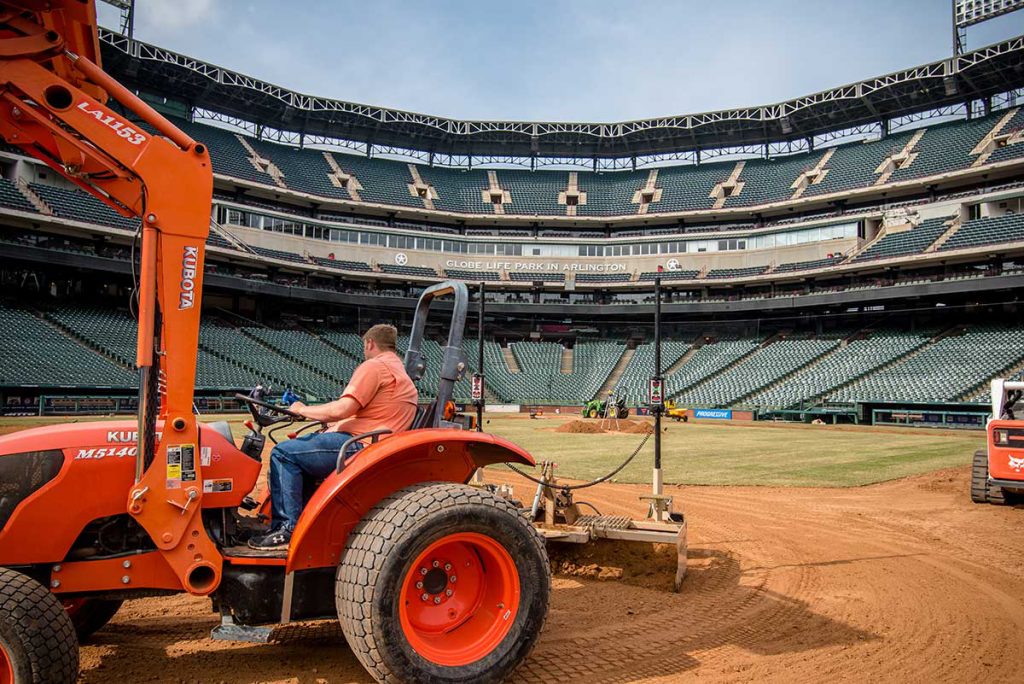 Learn More About TifTuf™ Bermuda
Read our blog titled "TifTuf™ Bermuda – Does it Live Up to the Hype?".
Tri-Tex Grass can provide you with the same high-performance grass in your yard that the Texas Rangers use on their playing field. In addition to its ability to recover quickly, TifTuf Bermuda has significant drought-tolerance and reduced water usage over any Bermuda. TifTuf used 38% less water than its well-known cousin, Tifway 419, thereby paying for itself in as little as 1.7 years. It stays green under stress when other grasses go dormant. It's also earlier to go green in Spring and later to turn brown in the Fall or Winter so you can enjoy its beautiful carpet for longer. TifTuf can also stand some shade which is something that sun-loving Bermuda grasses are not known to do.
Tri-Tex Grass serves residents of Dallas, Ft. Worth, Granbury and surrounding cities in North and Central Texas. With multiple sod farm locations, grass varieties for every application and a professional and experienced staff, Tri-Tex Grass is the best choice for all of your grass needs. We are happy to answer your questions. Call us at 866-573-6676.